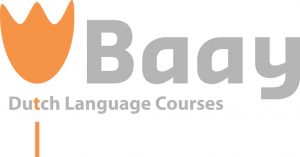 Everyone smiles in the same language
 Dag- en avondcursussen met andere internationale cursisten. Nederlands leren wordt leuk dankzij
een mix van 'Field Trips'   en theorie.                            
Cursussen gericht op
de zakelijke cultuur.
Leer uw collega's beter
kennen door samen
Nederlands te leren
en culturele
verschillen te delen.     
Privélessen worden
specifiek op maat gemaakt en aangepast aan uw individuele behoeften. Ze kunnen worden verzorgd op onze locatie of op uw werkplek.
 Tijdens onze acht-daagse cursus word je een week lang volledig   ondergedompeld in de Nederlandse taal.
Laat de dagelijkse drukte achter je en leer Nederlands op een sfeervolle en rustige locatie vlakbij Rotterdam                                                
Really good course, with fun ways to learn. Excellent teacher!
– Fiona from the UK
I liked learning Dutch at Baay Dutch language courses, because of the nice environment and teacher! I recommend the school as it prepares us for the real life in the Netherlands.
– Diana from Portugal
Very good tempo, excellent teacher and perfect location.
– Andrii from the Ukraine
The small groups make the lessons very dynamic.
– Rodrigo from Spain
Working in small groups has a really big advantage. You can speak/practice much more in two hours.
– Lukas from Slovakia
The class was very engaging. I learned more than I expected from this course.
– Mihai from Romania
The course is very effective at bringing people to a basic understanding and speaking the language. I loved the classes with a small sized group and the atmosphere.
– Joao from Portugal
I'm satisfied with my teacher. 5 out of 5.
– Viktoriia from the Ukraine
I had a great teacher and it was a pleasure learning basics of Dutch during my 0-A2.1 intensive private course. Also the location of the school is really central and classrooms are very modern and comfortable. I'd really recommend Baay school!
– Alessandro from Italy
Mascha is an excellent Dutch teacher, and I've been studying with her, on and off, from the time I first moved to the Netherlands not speaking a word of Dutch, to now, having achieved a B2 level. Her teaching style is lovely and she is thorough in establishing strong foundational knowledge. Echt een aanrader (highly recommended!)
– Sara from Australia
Baay DLC has been very helpful with their courses. I started in August 2017 from level A0 and now I can even use business level Dutch in my office.
– Abhishek from India
I'm happy with the result that I got after my Dutch course at Baay DLC. I improved my Dutch in a short time.
– Karin from Peru